One last thing be sure to use Teflon sealing tape on all the plumbing joints to eliminate any air leaks. That is the white stuff you see at the joints in the pictures.

TECHNIQUES:

Okay you got your airbrush and compressor and you are itchin' to try it out. I will outline her somebasic techiques that have worked for me throughout the years. The key word is patience. Without that you will not succeed.

Paint Thinning

You will have to first thin the paint to the right viscosity to be sure that it will feed through the iarbrush properly and flow onto the surface of the model evenly. This seems to be a sticking point with most first time users, but again this is not rocket science just remember to kepp it simple. For most enamel paints the Testor's recommended formula seems to work just fine.

That is:

Gloss Colors:3 parts paint to 2 parts thinner

Flat Colors:3 parts paint to 1 part thinner

Different brands of paint have their own recommendationswhich you should follow. I almost always use the recommended brand of thinner as some substitutions will require testing for compatibility. I have found that enamels respond well to good quality mineral spirits. (not the odorless kind). Other paints require different thinners and ratios. Acrylics like Tamiya I use plain old isopropyl alcohol and add just enough thinner as outlined below. Lacqers like automotive have basically a 1 to 1 ratio of paint to reducer. Some paints like metalizers are airbrush ready. I spray these directly out of the bottle as both my airbrush spray bottle tops fit the standard Testor's bottle.

Okay so your brand of paint does not recommend a mixing ratio, well no big deal. You want the paint to be the viscosity of milk. Here is how you can tell if it is right. Pour a little milk into a clear glass. Take a spoon and run some milk up the insides of the glass and notice how it runs down the sides and covers the area. You will note it is kinda thin and semi transparent. This is what you are looking for with paint. I normally pour the paint into the spray bottle (about 1/4 full) and add thinner with a pipette a little at a time or using the ratio above. I then stir it well with a stir stick made from a popsicle stick and then run a little up the side. If it looks like the milk example it is right. At first fo easy on the thinner if you are not sure adding a drop at a time and stirring until it looks right. This consistency works well for overall large area coverage. I have found that for drawing thin lines or smalll dots like camoflage where you are gonna really crank down on the paint flow and air flow, that the paint shouls be a little thinner. A few more drops normally does it. Special oversprays like washes and weathering and such require significantly more thinning to get the required effect.

Spray Techniques

I start with the paint nozzle fully closed and open it a half turn at a time and spray onto a piece of cardboard to see the pattern. I spray anywhere from 3-4 inches away from the surface and for general overall coverage I look for a width of spray of 1-2 inches wide with good coverage and no runs. if the paint does not come out or only a little, I open up the paint nozzle a little more and try again. If the paint does not come out check for clogs (Remember to thoroughly clean your airbrush after eacn session. More on this later) or thin the paint some more and recheck. Also check to see if the little hole in the top of the spray bottle top is open as this allows air pressure to come in and push the paint up the tube. Once you are happy with the pattern it is time to paint the model. This technique is the same for all paints whether tey are primers, glosses, or flats. See the diagram below.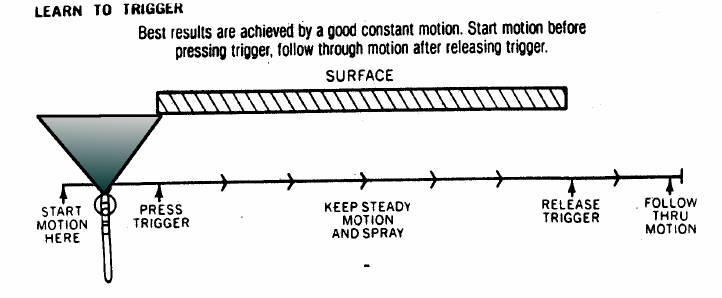 I first put on what is referred as a dust coat or mist coat. This coat sorta prepares the surface for the thicker color coats. Here is where the patience comes in. I spray on several thin coats and slowly build up the finish to a nice even coat. Flats and primers are relatively easy and forgiving. Glosses require a little more technique in that you want the last coat to look "wet" as this insures that it flows out for that real nice surface finish. On cars I start spryaing the top and then move down the sides an front a nd back. I use a wirte stand to hold the body and tilt it so that the sirbrush is flat or pointed slightly downward. Sometimes it is necessary to let the model sit about 30 minutes or so before additional coats. Check out the article on rubbing out and polishing gloss finishes.

Camoflage is a little trickier. On most large area painting, I use full pressure with the air contol at full open. (About 30 psi) When I do camoflage, I just crank down both on the air contol knob and paint flow knob. Here is where a regulator comes in handy as I have cranked down the pressure to as low as 15 psi with some thin acrylics like Tamiya and Guze Sangyo. With less paint and less air you can get real close to the surface in order to get that thin line, sometimes as close as 1/2" to 1" without the fear of runs. Again test it on the cardboard. Here is where practice is necessary to develop your technique. With a good double action airbrush you can draw a line 1/16" wide. Reemeber to thin the paint a little more and crank down on the air pressure and paint nozzle. On a good day you can get a 1/32" wide line. Here is a little test that came with my double action. Try to replicate the pattern of dots shown below. Then try to daw nice even lines the same width as those dots. If you can do that, then you can do almost any type of camoflage or fade job with no problem.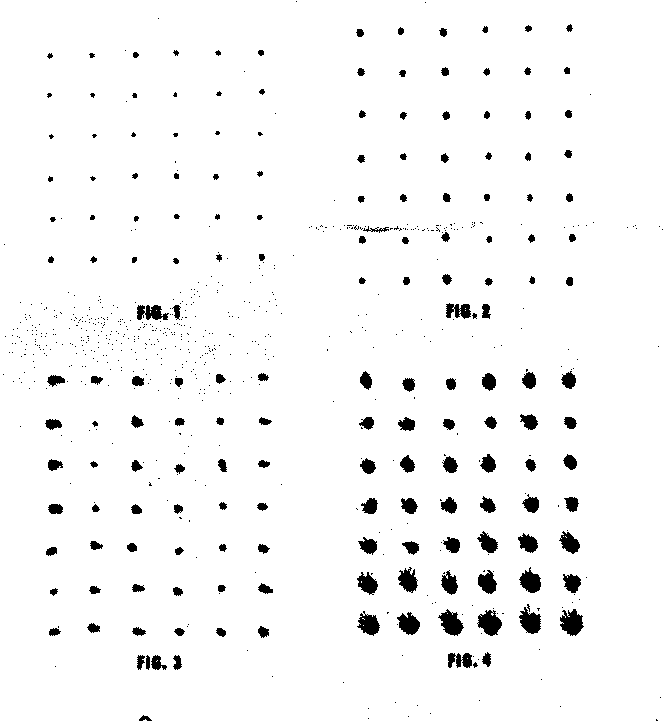 CLEANING:

The key to good airbrush performance is keeping it clean. I clean my airbrushes with lacquer thinner. This stuff will dissolve all hobby paints with no problem and is safe on most high wuality airbrush parts. I buy it by the gallon or quart and use it instead of the thinner that i use to thin the paint which is more expensive. Lacquer thinner is relatively cheap in those quantities. I cannot speak for the Testor's Azteck series as they have a lot of plastic in them. The single action external mix types are very easy to keep clean. Normally I spray from lighter to darker colors in a sitting. For this I just squirt lacquer thinner throught the nozzle and feed tubes until it comes clear. I do not bother to disassemble the nozzle between coats unless the colors are close and there is the possibility of contamination. The same is true for the double actions, but they require more flushing of the solvent through the nozzle and I normally remove the needle and clean it even between colors.

Once I am done for the day, I disassemble the airbrush per the manufacturers direction and thoroughly clean the parts with lacquer thinner. I soak the double action nozzles in a small bottle of lacquer thinner and squirt fresh solvent thru it with a pipette. I reassemble the airbrush and put it away. Sometimes the gaskets get a little hard so i put a little vaseline on them to soften them up. Most airbrush problems can be traced to either tooo thick or thin paint or a dirty or clogged nozzle, feedtube, etc. NEVER LEAVE YOUR AIRBRUSH DIRTY OVERNIGHT!! No matter how late it is always clean it. I have done this with my old reliable and it has given me over 35 years of trouble free service with only one rebuild of the gasket and air valve packing.

Tank compressors require that yu occasionaly drain the water fromt the tank or it will rust from the inside out. If the compressor is kept on constantly with recharging of the tank pressure, I drain it once or twice a week. You will be amazed how quick those thing swill rust. I also drain the water trap when I see moisture in it.

I hope this helps you in your airbrushing. See it ain't that hard is it?